Once Eclipse has created the new Android project, you'll see the project's structure in Package Explorer. It should look like Figure 1.

Figure 1. Folders and files in a typical Eclipse Android project.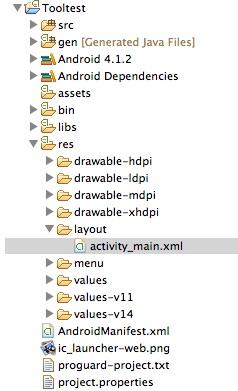 src - this is where the project's Java source files would go, but since we're developing with Pascal you won't use this folder.
gen - each time you build the project, Eclipse extracts resource identifiers from all of the project's XML resource files and creates a new R.java file; PBA converts R.java to Rjava.pas each time it's updated.
assets - database files, images, etc. can be placed here for deployment with your app.
bin - compiled files (.class extension) are placed here under classes; the .apk file that you deploy is created here too.
libs - place any .jar files that your app needs here; you can create a .jar file from compiled Pascal .class files as well as from compiled Java .class files.
res - XML resource files go here; note how Eclipse has opened the activity_main.xml resource file in the Graphical Layout designer; you can also switch to a raw XML editor to view and edit a layout (see Figure 2).
AndroidManifest.xml - project's manifest file; normally you let Eclipse manage this file.

Figure 2. Eclipse layout designer.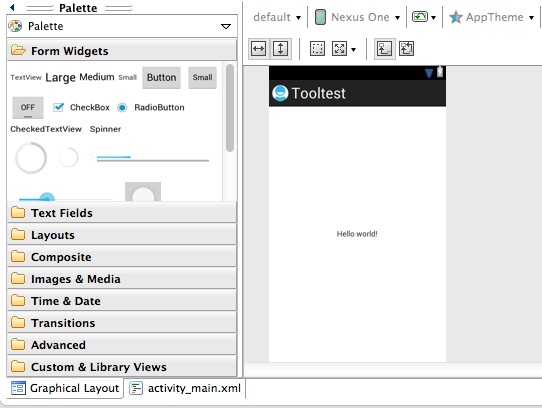 Refresh Eclipse.

To see your project's Pascal files (created by PBA), select your project in Package Explorer and choose File | Refresh. You should now see a pas folder in Package Explorer. Expand it and select MainActivity.pas. Right-click it and choose Open With | Text Editor to open it in Eclipse. You can also open Rjava.pas to see your project's resource identifiers. Note how MainActivity.pas references two resource identifiers.

Tip: If you double-click a Pascal file, it will open with whatever program you have associated with the .pas extension. On my Mac, this is TextWrangler. If you prefer, you can then edit your source with a more familiar editor instead of in Eclipse's editor (see Figure 3).

Figure 3. Pascal boilerplate code for Android "activity" (as viewed in TextWrangler).